Sponsors Visit to India
2007
Dear Sponsors,
Dec, 2007
My name is Stephanie Haumueller and I was born and raised in St Louis, MO. I am a graphic designer in San Francisco and have lived here for 10 years.
I've been blessed to have traveled to India two times ( 2005 and November 2007 ) and each trip has opened my eyes to the beauty, grace and hardship that is India. I'd long been drawn to India before my first trip, the strength of people's spiritual devotion was fascinating to me. In my own busy life in America I often find my spiritual life taking a back seat to the pressures of work and the fast pace of life here. I wanted to see firsthand how the people of India make spirituality a priority and weave it through every aspect of their daily lives. I saw this immediately in all the projects that Foundation for Children in Need has created, daily prayer and spiritual awareness are a very important part of every single day.
Upon one's first visit to India what strikes you from the very first moment you step off your airplane, is how little the majority of people have in this country. It's shocking in comparison to the smallest conveniences we take for granted in the United States, access to clean water, to education, indoor plumbing, and the list goes on. Yet that stark reality will also be immediately contradicted by the kindness and generosity of the Indian people. They have so little yet their warm hearts are there to greet you with a smile or to offer a helping hand. Tom and Geetha are living examples of this, what they've accomplished in the villages where their projects are, is amazing. I have to admit I was nervous to make a trip to rural India, very far from the usual tourist route that I was familiar with! Tom and Geetha, along with the family of FCN, quickly put my fears to rest and I couldn't have had better hosts to help me feel comfortable arriving in a place that was very different to the life I know in the United States.
I was so impressed by the team that Tom and Geetha have put together at FCN. I arrived at one of the busiest times of year for them, holiday letter writing season. Every member of the staff was working hard to help each student craft a meaningful letter to their sponsors. It's a very important task and taken very seriously by each individual. Tom and Geetha make sure each student knows how much we all love to hear from them and know how they're doing. I got to help out while I was there as well, by typing the letters that had been translated. I loved seeing what each student wrote, stories about their lives and families and their gratitude for the help they receive from all of us.
One of the highlights was getting to meet my sponsored child Kiranmai Kalluri. I was eager to meet her and Tom and Geetha took me to her school the second day I was there. I was overwhelmed with happiness when I met her, it was such a special moment! The idea that I can potentially help change someone's life by giving them the opportunity for education is amazing to me. Even though I'm the one who donates money, the gift I receive in return is more valuable than I can describe in words. Getting an education in India is not a given, many children never have that chance. Especially in rural India where a child may have to work from a very early age to help families afflicted with poverty. By educating the children in these villages Tom and Geetha are helping break the cycle of poverty that is so common in areas like this.
One of the best days I had was visiting the school my sponsored child attends and having art class with the kids. Even with the language barrier the kids and I had a wonderful time. I also taught them a few songs and games, they were so excited to have a visitor!
Education is also just one part of what Tom and Geetha do, they also built the wonderful St. Xavier's Home for the Elderly, and Geetha regularly goes from village to village conducting free medical camps. In addition to visiting the schools I had the chance to spend time with the elderly at St.Xavier's. Even though I don't speak Telegu (the local language) and most of the elderly spoke no English, I laughed so hard everyday with everyone there. We had a great time! The men and women at St Xavier's are an inspiring bunch, I can't imagine the circumstances they had to go through before arriving there. Now they have the opportunity to live out the remainder of their lives in a beautiful setting around people who care about them. The staff was incredible at St. Xavier's, I can't say enough about them, it takes a special kind of person to work with the elderly and Tom and Geetha found a team perfectly suited to do so. Sister Lucy, along with her staff, keep the elderly engaged with chores and social activities encouraging friendships and camaraderie. All of these people would have no where else to go if it weren't for FCN.
I also have to mention my faithful friend Narayana (a staffer at FCN) who took me where I needed to go, would go on walks to town with me to make sure I didn't get lost and also spent time attempting to teach me Telegu. Just another example of a generous soul within the Foundation for Children in Need!
We have so much in this country and it was incredibly humbling to travel through India to see how people struggle to take care of themselves with so little. Yet they have such strong beautiful spirits, so much faith and will always greet you with a smile. I'm proud to be a contributor to help give someone a chance at a better life.
I could certainly go on about all the amazing things that I experienced while visiting FCN! I was touched by Tom and Geetha's tireless dedication to all FCN projects, they work so hard to ensure the success of all involved. My visit with them was something I will never forget and I hope to be fortunate enough to continue making visits to India and helping in any way I can.
Sincerely
Stephanie Haumueller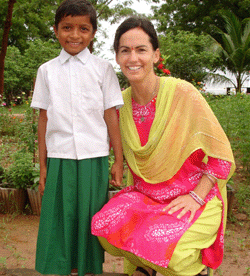 Stephanie Haumueller with hersponsored child, Kiranmai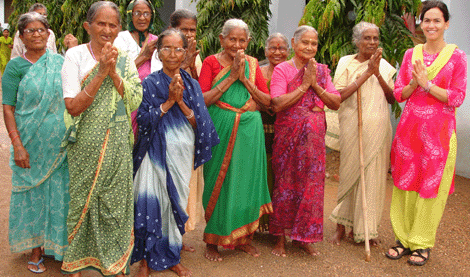 Stephanie Haumueller with the elderly
Dear Sponsors,
September 19, 2007
My name is McKenzie Jones. I am nineteen years old and I live in Oregon in the United States. I met Geetha a few years ago in Durango, CO while visiting my aunt Melanie. Ever since I had the desire to visit India. This year I had the privilege of visiting Tom Chitta and Geetha Yeruva for a month. Though there are many things I would love to share with you about my experience I feel I do not have the rhetoric to describe its beauty, innocence, and chaos. However there is one part of India which I feel not only touched by but obliged to share. To further elucidate allow me to elaborate on the major effects of FCN which your donations help fund and run. FCN focuses on three major efforts: education, free medical care and service to the elderly. I encourage you to look on their website and learn more about the many projects taking place. Though the website is very well developed and accurately depicts the organization, it does not capture the integrity nor the appreciation of those you help.
Let me take you to my very first week in India at St. Xavier's home for the aged, Shantivanam. Though I light heartedly joke about the language barrier that I faced on my journey it was very easy to see the determination in one lady's face when she insisted that fifty rupees (a little more than a dollar) she saved would be for offering mass for her sponsor the next day. This adamancy is not just found in one person, every week one elderly person offers the Sunday mass in gratitude for the health and well being of their sponsor and family members.
There is no gap in comprehension of your sponsorship between the aged and the children. Everyday the children say the rosary in memory of their beloved aide. I had the honor of reading some of the student's letters to you – their sponsors- and there is no exaggeration in their love and appreciation. Their gratitude for you is depicted through their study habits and desire to succeed. From the bottom of my heart please know these children fully understand your sacrifice and the vitality of your donation to continue their studies.
With the twenty dollars donated per month there is absolutely no waste nor room for luxury. Your blessings adequately provide a nutritious diet, housing, education, and medical care in a loving environment. Tom and Geetha's mastery of frugality is practiced with precision. It is a miracle in itself how basic needs in a nurturing home can be provided on such a limited balance.
It was truly an honor to witness the unending prayers and the undying love they have for you. In conclusion I would like to leave you with this thought. Through God's grace your blessing will be forever duplicated not only by your sponsored, but by their families, and the future of India. The education you provide will help this new generation provide for their poverty stricken families and deliver the same kindness to others that has been bestowed upon them.
Witnessing it first hand they are undeniably deserving and overly grateful for your blessings. My hope is that your life is as blessed as the people's at which you are helping.
From my self and the people of India, thank you and God bless you.
Sincerely
McKenzie Jones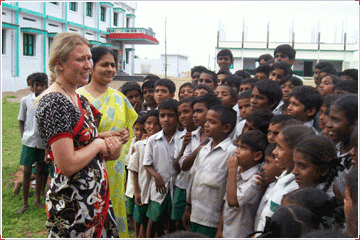 McKenzie with the children of prema nilayam project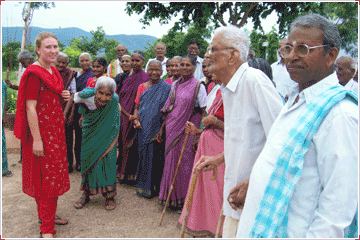 McKenzie with the elderly at st.xaviers home for the aged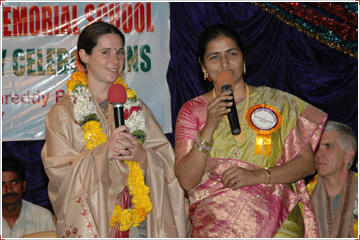 Tali addressing the gathering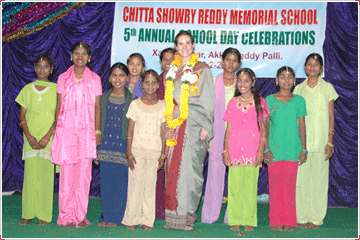 Tali with her dance students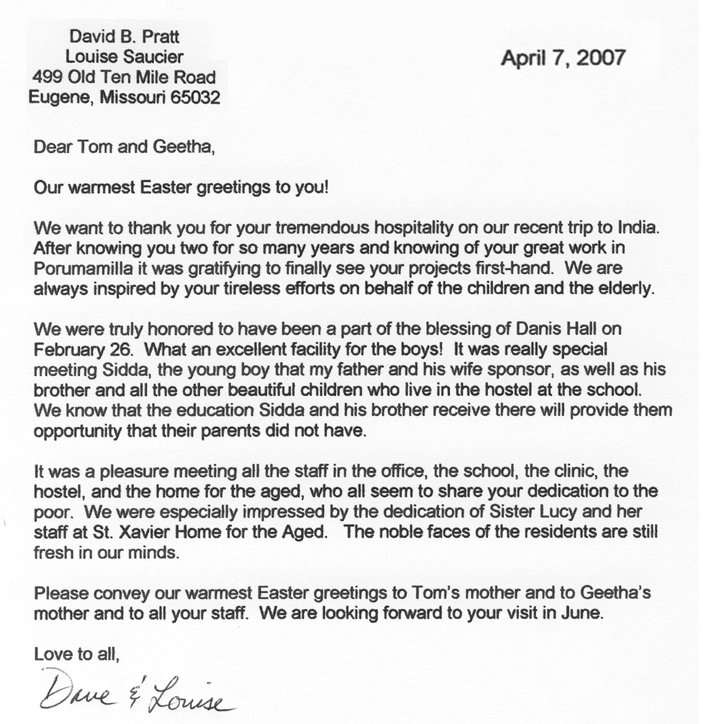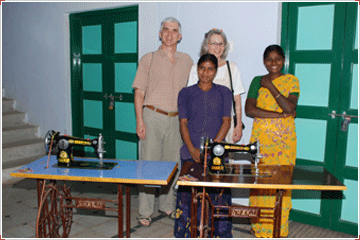 David and Louise donate sewing machines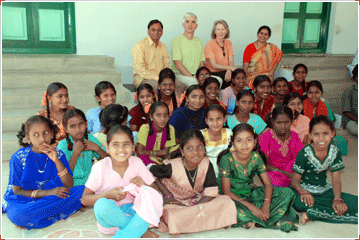 David and Louise with FCN sponsored children at Prema Nilayam
David and Louise receive a certificate of appreciation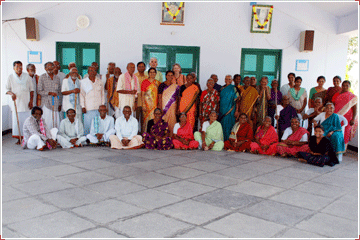 David and Louise with the elderly at St. Xavier's home
Dear Friends,
Dec, 2007
We were privileged enough to visit Tom Chitta and Dr. Geetha Yeruva during the month of January. The three of us are nursing students finishing our last year of school at St. Mary's College of California in Moraga and Samuel Merritt College in Oakland. Tricia met Tom and Geetha in San Diego (her hometown) where they frequently visited promoting FCN. Tricia's parents are sponsoring Rayappa through FCN. Upon meeting them Tricia asked if there would be anyway to visit their home and help with medical camps. Tom and Geetha responded with open arms and the trip was booked.
During our time in Porumamilla we helped run free medical camps. These medical camps either took place at St. Xavier's home for the aged or we traveled to different villages. Many of the patients we saw traveled miles on foot just to be seen by a doctor even though their illness may have been very debilitating. At these medical camps we saw illnesses that have long been eradicated from the US. We were fortunate enough to work with Geetha, and see how caring of a doctor she is. Our medical knowledge expanded greatly as well. We also spent time at Dr. Geetha's health center that was recently built, providing free medical care.
During our visit we spent a great deal of time at St. Xavier's home for the aged, where we saw an excellent care the elders receive by the staff. Also Lisa was able to meet her sponsored child there. We were able to attend the groundbreaking ceremony for the Casey and Melanie Barber Memorial Chapel who were good friends of Tricia and her family. We visited two schools established by Tom and Geetha and admire the good work done by FCN in the rural villages. We also went to the village to meet the families of children sponsored by Amy, Tricia and Tricia's parents.
Our trip was an amazing experience. Visiting a culture so different from the US was difficult at times but extremely interesting. Tom and Geetha were great hosts and took excellent care of us during out stay with them. We had the journey of a lifetime during the month we were in India and we know that we will never forget it. Thank you so much Tom and Geetha for all you do.
Sincerely
Tricia Howell, Amy Hyder and Lisa Bowes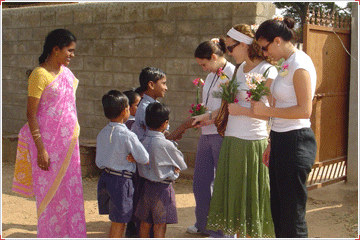 School Children welcome Lisa, Tricia and Amy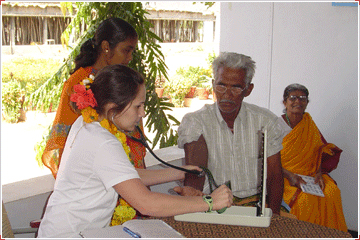 Amy Hyder giving medical care to an elderly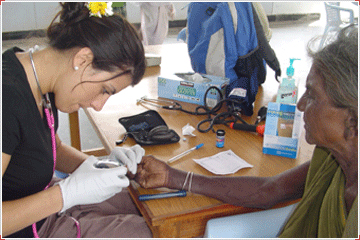 School Children welcome Lisa, Tricia and Amy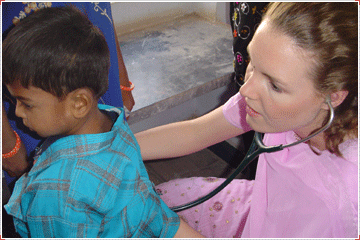 Tricia Howell providing medical care to a child
Dear Friends,
jan, 2007
It is hard for me to put into words the experience of my trip to India with my 19 year old son Marcus and my sister Linda. I met Tom Chitta 18 years ago shortly after my husband and I adopted Marcus at 5 months old from Calcutta. Every year Tom would stay with my family when he was here in Albany N.Y, while making mission appeals. He would often invite us to visit India, but I never dreamt I would someday go.
Through out the years Tom would share with us about the different projects he was working on. I remember in 1991 looking at the many pictures of the "Home for the Handicapped" he built for the children affected by polio. He was successful with his efforts getting them treatment along with a vaccination program which has wiped out this problem in his area in Mydukur. Another year we heard about the tree planting program which brought life back to many barren areas. I was inspired when he shared with us the new 100 concrete homes he replaced mud huts at Karunagiri, a remote village, along with new wells, school, orphanages, a convent and prayer center. Tom led medical camps and distribution of food after the floods in Kadapa in 1996.
In 2002 Tom and Dr. Geetha have opened St. Xavier's Home for the aged. They have built a school and orphanages. They established several schools. Dr. Geetha organized many free medical camps. They have distributed 1000 food kits and blankets and one hundred fishing nets to the different villagers, along with a free medical clinic after the Tsunami.
On my recent trip I was able to meet my sponsored child, along with her beautiful family. I was humbled by their gratitude and reception. I met two other sponsored children of friends I know, who were delighted to see us. With all smiles asked me to thank their sponsors personally. I was often moved to tears to see first hand what I had only seen in pictures.
The high light of the trip for Marcus was when he was able to pass out blankets and towels to the 120 orphans, at Karunagiri with the money donated by the teachers of his school. He talks about playing Frisbee with young boys in a very poor remote village and gave candy to the children while Dr. Geetha set up free medical clinic. We went to the school that Tom and Geetha founded and had a wonderful time. We gave candy and pencils to 250 kids and played with them. We also spent some time with young girls who are given training in tailoring and sewing. It was enriching to see that most of the work that Tom and Geetha organize is supported by generous friends and sponsors from the United States of America. Please be sure that your dollars are put to good use.
Marcus has always been an important part of our family. While there, they made me feel as if I was a part of India's family. We will miss our many new friends we made in our 17 day journey. The people are kind, polite and genuine. (I invited them all to my house if they ever come to America.) Indeed it is a small world! May God continue to bless all the wonderful work that Tom and Dr. Geetha are doing not only in India but a great inspiration for all those who have the honor of supporting them and their ministry to reach out to the poor.
Most Sincerely
Patricia Gagnon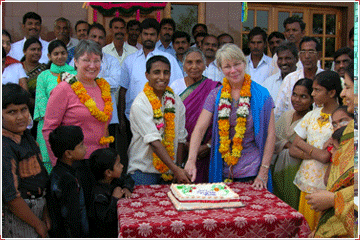 Sister Linda, Patricia and Marcus celebrate New Year in India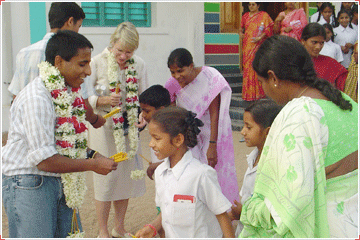 Marcus and Patricia distribute pencils for the kids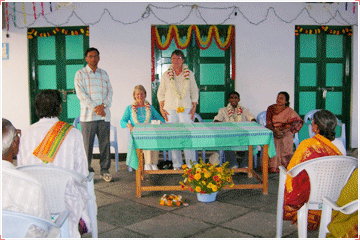 Sister Linda talking to the elderly at St. Xavier's Home for the Aged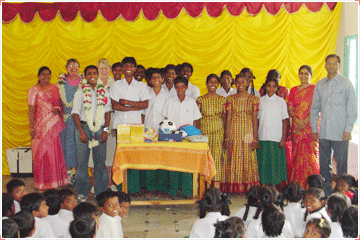 Marcus brings gifts for the children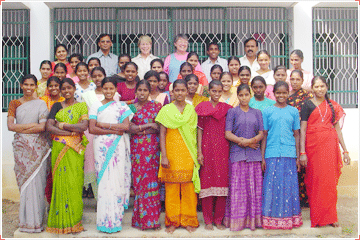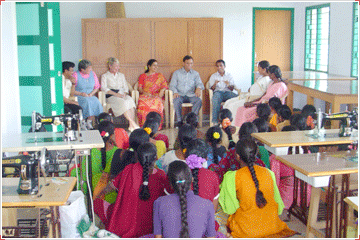 Dear Friends,
jan, 2007
I visited Tom and his wife, Dr. Geetha, in India right after Christmas 2006 together with my sister Patricia and her adopted son, Marcus who was born in Madras, India. It was such a joy to spend two weeks in India. I can report first hand that their ministry among the poor is outstanding, responsible, forward-looking, "hands-on," energetic, highly respected, and full of love and hope.
I've known Tom for eighteen years. No matter the challenge, he meets it. At the same time, he and Geetha know how to pace themselves so as to avoid being over-extended. They delegate responsibly and invite others to join them in their work. They see hospitality to persons like us (or you!) as part of their ministry. When one sees what they are about, it is impossible to not want to support them.
Education is a key to serving the poor. We visited two schools founded by Tom and Geetha, both serving the poor. One very large school serves the children from the rural area. Besides a fine education, they give the children breakfast as well as a mid day meal and evening snack each day! This school has two orphanages attached, one for boys and the other for girls. The second school also serves the village children. "Sponsoring" a child's education is one of the key ingredients of the mission appeal.
A growing issue in India is the abandonment of the elderly. Tom and Geetha have founded an "assisted living" home for those who need care. Without a doubt, a nursing home will be the next dimension of this work.
In the small town of Pormamilla where their office is, they have a health clinic from which Geetha gives direct service to the poor in the villages on the outskirts. I went with her to one such a place… and because of Tom and Geetha, this village of 25 families now has cement homes (2 rooms each) rather than mud huts. Geetha did physicals and found one child with ringworm and another with pneumonia.
Also at their offices in Porumamilla, they offer classes to young poor women without skills. They learn to sew and do needlework, creating the beautiful saris that the Indian women wear with grace. Another group learns crafts that they can sell. I could go on and on.
I trust that as you continue to support the charities, you will seriously consider assisting Tom and Geetha, and the Foundation for Children in Need in their wonderful work. Please contact me if you would like to know more about their work or if you have any questions about their ministry.