Sponsors Visit to India
2010
Dear Friends,
March 8, 2010
I am writing to share about my recent visit to India including a chance to visit the efforts of Tom and Geetha at Foundation for Children in Need (FCN). I have too many adjectives to describe my experience so I will settle with calling my time a mission adventure.
I appreciate getting to see the various efforts underway to lift people up. I remember the young women being lifted up through receiving sewing skills to make their own clothes and pursue future business opportunities. I remember meeting all of the children who are being lifted up through receiving scholarships for their education opening up their imaginations. I remember meeting the joyful elderly people living at the home for the aged who are being lifted up from destitution to being able to live out their final years in peace and dignity. And I remember visiting a remote village where people are lifted up by receiving basic health care and education through a mobile clinic service.
Besides lifting up the poor and needy, I witnessed how FCN helps to extend the mission of the Church in Andhra Pradesh by supporting the training of sisters, parish outreach and building up the ministries of the local diocese. As a mission director, I was impressed with the level of faith that is the source and goal of all that happens through FCN. They witness to the good news of God's loving compassion and bring a generous and welcoming spirit to all they do.
I'm very grateful for my first hand look into the Church in mission in India. It is a land of many beauties and contradictions. I'm glad to see that the efforts of FCN are so focused on caring for those that Jesus called, "the least of these". They are bringing good news to the poor, care for the sick and hope for those who are prevented from reaching their God-given potential.
Sincerely in Christ,
Deacon Mickey Friesen, Director, Mission Office
Archdiocese of St. Paul and Minneapolis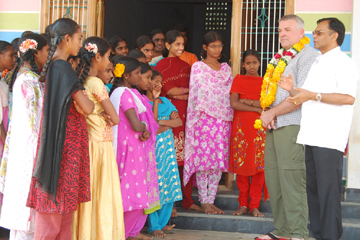 A moment with FCN sponosred children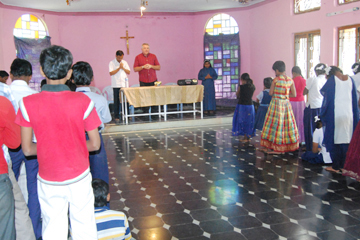 Praying with the physically challenged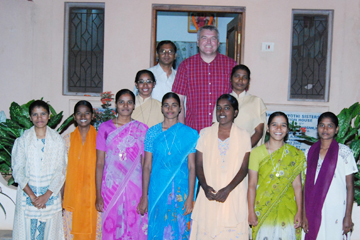 With a group of girls aspiring to become nuns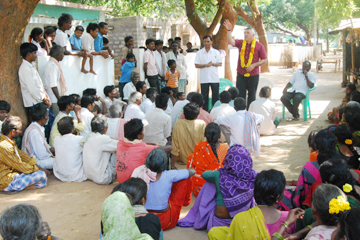 with the People of Karunagiri village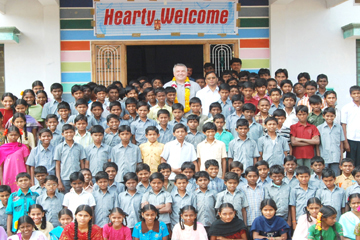 At the FCN School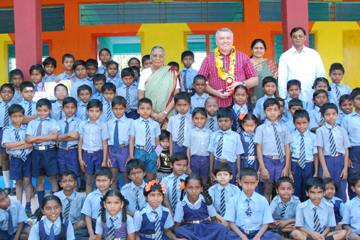 With St. Anthony's School children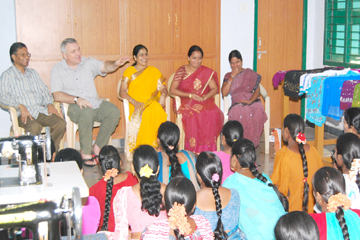 At the tailoring training center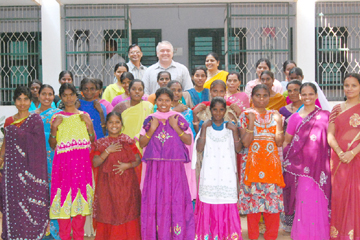 With the girls at the training center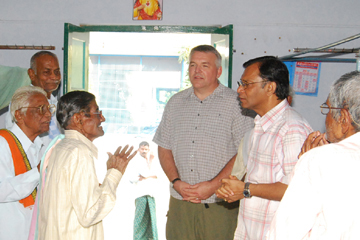 Interacting with the elderly
With the elderly at St. Xavier's Home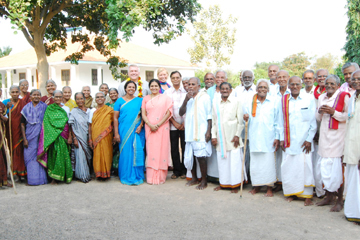 With Dr. Geetha at a mobile clinic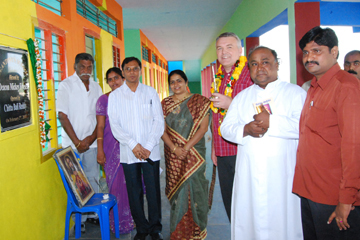 Deacon Mickey blesses St. Anthony's new school building
Dear FCN Sponsors,
I've just spent five amazing weeks in India with Tom and Geetha. What an incredible difference their work and your sponsorship is making in the lives of people. And what a privilege to see it first hand.
This was my second trip to India. Once again, I was overwhelmed by the intensity of the experience. Such great need. And yet people with such great faith, joy, peace, hope, and gratitude.
I've known Tom and Geetha for ten years. During that time, I've seen their single-minded service to the poor. Faced with endless need, they don't lose heart. Instead, they shoulder the burdens of the most needy. One child, one school, one elderly person, one village, one college student, and one future at a time.
The result is thousands of people whose lives are completely and forever changed.
For three weeks, I stayed at St. Xavier's Home for the Elderly, which was built by FCN. It is also known as Shantivanam, which means peace garden. It lives up to its name in every way. Not only is it a clean and healthy home for the sponsored elderly who have no other place to live. It is a home for sponsored nursing students who care for the elderly as they gain practical experience for their profession. It is a home for sponsored college students earning degrees in the nearby village. It is a place of simple beauty with flower and vegetable gardens tended by the elderly and students. It is a joyful community of prayer and song set into motion by Sister Lucy, a woman who makes ordinary things extraordinary. It is a refuge where people live with dignity and hope fulfilled. It is a world away from the poverty, hunger, and disease that press in on all sides. It is a peace garden.
But the best thing about Shantivanam is the people who live there. Lilly, a smart, kind, and beautiful nurse, is one of them. Her parents could not afford her tuition after 10th grade. With the help of her sponsors, she continued her education and completed four years of college, earning a Bachelor of Science degree in nursing. In her own words, she loves her work at Shantivanam because she can share with the elderly what was given to her. Without her sponsors, Lilly, like the other students at Shantivanam, would spend her life in a poor village working in the fields.
I also had the pleasure of spending time with the students at St. Xavier's School. The students are so grateful for the opportunity to go to school and so eager to learn. The school was built by FCN in a rural area where there was no school and no opportunity for education. Today over 300 poor village children go to school, study English, and are getting the education they need for a brighter future – for themselves and for generations to come who will follow in their footsteps. Most of these children live in the school hostel where they receive healthy meals and medical attention that would not be available in their villages.
One of the highlights of the trip was meeting Jyoshna, my sponsored child. She is a smart and beautiful eighth grade girl whose parents struggle to make ends meet. She studies hard, is proud to be second in her class, and hopes one day to go to medical school and become a doctor. She is just one of the 2,000 sponsored students who are reaching for their dreams.
I also visited several poor rural villages where Tom and Geetha conducted medical camps, including health education and medical care. Tom and Geetha make regular visits to these remote villages, which have no other access to medical care. Geetha treats each village patient and provides the necessary medicine with the help of Lilly and the nursing students. Many of the aliments are caused by malnutrition. Other diseases are not seen in the United States. Some of the sponsored students come from these very villages. The difference between growing up in these villages and going to school is $240 a year.
Among these many projects, Tom and Geetha also provide dictionaries to high school students, clothing for the physically challenged, and food for flood victims.
What an amazing difference sponsorship makes in the lives of people -- for both the sponsor and the sponsored. It goes far beyond food, medicine, and education. I encourage you to go to India and see it for yourselves. You won't be the same.
All the Best, Deborah Rhodes
San Diego, CA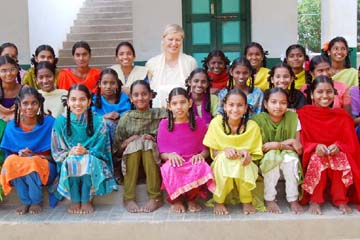 with girls at FCN School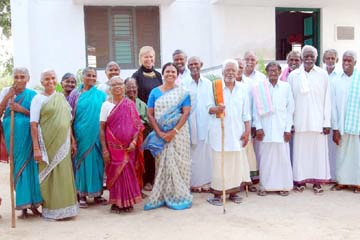 Deborah with the elderly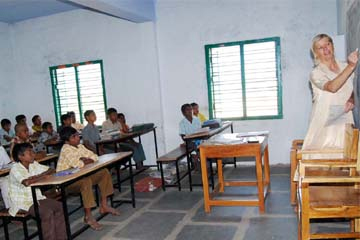 Deborah teaching English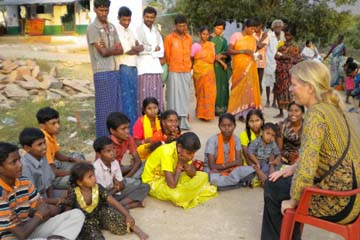 Deborah talking to children in a village
Namaste,
February 2010
A few years ago we googled "Porumamilla" because my ( Sumathi ) roots and found "FCN" website. We contacted Tom Chitta and because both of us are born in the same village. He replied that he was happy to help us further with all the information we wanted.
Last year in December we renewed our contact by e-mail because we planned a visit to India and we wanted to see where I came from and to see the real life in India, not only the touristic spots. Tom arranged a stay for us and a schedule for the 4 days.
From Chennai, my husband Luc, myself and our daughter Rani took the train to Kadapa and there Tom's brother Mareddy was waiting for us with the driver to bring us to St.Xaviers home for the Elderly. This is a clean, healthy and peaceful place for sponsored elderly who have no other place to go. It is also a home for a few nursing students who take care for the elderly and a home for college students from the nearby villages.
It is a beautiful project which combines different goals into one concept: elderly who can enjoy the last years of their life in a healthy environment with the help of the nursing students who have the chance to study and practice, and college students who help the elderly but at the same time have the possibility to go to college. All this is under the leading hand of Sister Lucy who is also a perfect guide!!!
The following days we visited together with Sister Lucy and Mareddy the villages nearby, Rameswaram, Varikuntla, Govinala Reddy ST colony, Kasinayana and Akkulanarayanapalli. People are living there under circumstances of which we thought they did not exist anymore. People there have barely no income, they have no medical support and the children have no chance to go to school.
It is in those villages that we have seen the good work Tom and Geetha and FCN team. They organize medical camps to provide medical care and health education. But the most important is they advise and encourage the parents to send their children to school so that they have a chance for a better life in the future.
The last day we visited the tailoring center where young women have the opportunity to learn a job so that they can earn their own money and survive in this hard world.
Our highlight was the visit to the FCN school which is built by FCN in a rural area and today more than 300 children from the nearby and poor villages have the opportunity to go to school. They follow the courses, they can stay overnight, they have 3 times a day meals, they have medical support if necessary and clothes are provided. By sponsoring a child there you known that this child will be able to read and write, to know how to speak English, to be aware of the importance of education, to become a person with a great future.
We already visited some countries in Asia, but what we have seen and experienced in India and especially in Porumamilla left us with a mix of different feelings.
We want to thank Tom, Geetha, Sister Lucy, Mareddy, our driver, our cook in the home of the elderly ( she prepared the most wonderful meals ) and the rest of Tom's family for sharing and showing the real life in India and those people will always be in our heart and we will never forget them.
The moment that we returned to Belgium we decided to sponsor a girl around the age of 6 years as it is important for our daughter Rani (also 6 years) that she knows that the world she is living in, and the opportunities she is having are not common in other countries.
We are looking forward to receive news about our sponsored girl and we already planning a return- trip next year.
Greetings, Sumathi, Rani and Luc
Bruges, Belgium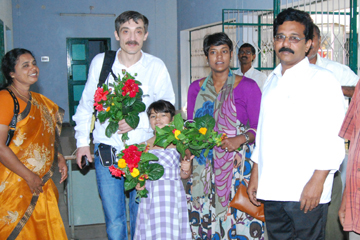 Welcome at FCN Office
Explaing about sponsorship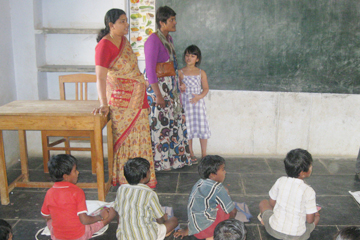 At FCN school
In a class at St. Antony's School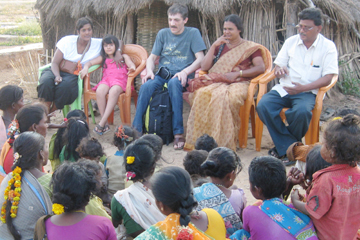 With inmates of Shantivanam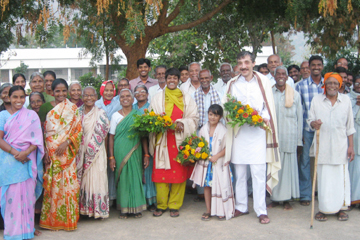 In a village