Dear Friends,
May, 2011
My trip to India was one of the most memorable experiences of my life. I met amazing people and was able to experience the culture in a way most Americans would never have the chance to. Tom and Geetha were wonderful and welcomed us into their home. They are two of the hardest working people I have ever met. It was amazing to see the ins and outs of the charity and learn exactly how our donations were used to enrich the lives of so many people. Tom was wonderful in explaining and showing how each dollar is used for each child. Not only did we hear it from him but we were able to meet and speak to the children and elderly themselves. Just to see their smiling faces was wonderful. I never realized how much of a difference my small donation made until I was able to meet the little boy I sponsor, Surendra. He spoke English very well and was learning three languages in school. In order to advance his social situation this little boy was living at the school hours away from his home. But he is given a wonderful home there with nutritious food and caring teachers. This is an amazing opportunity he has that was made possible through the hard work and dedication of Tom and Geetha. I never realized the effect of actually seeing him would have. He is this precious little child who's smile lights up the room. I am so blessed to have been able to see first hand the tiny little lives we are helping.
There were so many situations that touched my heart. I was humbled to see such happiness and gratitude on everyone's faces. For these children just having the chance to learn means everything.
I remember talking to my family and being so thankful for how much I have and the blessings we were given. While in Hyderabad we had the opportunity to visit an orphanage for children who lost their parents due to Aids. There were twenty-five beautiful little boys who laughed, danced and sang songs for us. It brought tears to my eyes to see children who have lost so much find a home they could be happy in again. Our ability to help each and every one of these people is a gift given to us by the hard work of everyone involved at FCN. Thank you so much Tom, Geetha, and everyone who helps you.
Sincerely,
Samantha Schettle, WI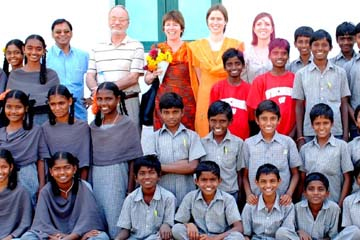 With FCN school children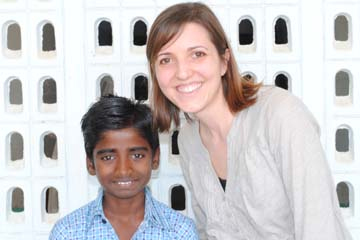 Samentha with her sponsored child Surendra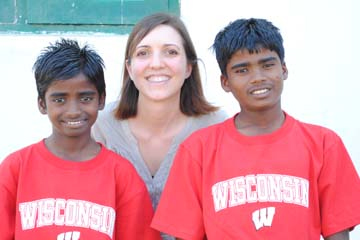 Surendra and his brother with Samentha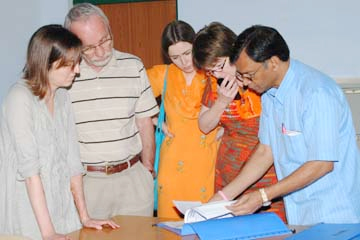 Tom Chitta showing sponsored children individual file
Dear Tom and Dr Geetha,
Febuary, 2011
My visit to India and your sponsored projects in Andra Pradesh has been the experience of a life time. I was so thrilled to meet Devendra, my sponsored child at the St Mary school in Kazipet. Even though he is only 8 yrs old and has no father he seems to be doing extremely well and is already writing me letters in good English. I think he will even be speaking it in a few years. I look forward to sponsoring him for many years to come and probably visiting him again, God willing.
I was especially impressed with the way the sponsorship programs are set up for those not attending the FCN school, which is most of your 2000 sponsored children. You have documented and organized things extremely well and at the same time are teaching the children good accounting practices, organization and communication skills. These skills will all be extremely beneficial to them as they mature and is not something they would normally get in school.
I was also very surprised at the variety of projects FCN is supporting, all of which are dear to my heart. These include an orphanage for HIV positive children, a home for the elderly, a school for sewing classes of young and middle aged women, and housing for handicapped children next to a good school they attend. The dancing and singing performances at each school we visited were very impressive, but the one at the handicapped home was truly amazing. And the joy of the performers and the children in the audience was very obvious on their faces. I cannot say enough about how valuable these lessons in dance in each school will be having on their confidence and joy for living. Very impressive.
The one week tour allowed us to get to know you and your family and staff very personally and I am very appreciative of that. Your hospitality is beyond reproach and is an example to us all. I think we Americans have a lot to learn in that area from other cultures like India. I have seen it on a much smaller scale in Tanzania where I have worked in mission. They, like you, truly believe that any guest is a real blessing to the household.
I look forward to many years of support of FCN both financially, spiritually and through volunteer projects back in the US. Congratulations on a wonderful tour and thank you for introducing me to the other Americans who have similar mission support interests. They were charming.
All the Best, Tom Scott
Kansas
Tom Scott with his sponsered child
With Sponsored children
Dear Friends,
January 2011
airness of skin among the crowd, I felt part of India and experienced the country through its people, culture, and life with heartfelt assistance from Dr. Geetha Yeruva and Tom Chitta.
Was the purpose of my trip to work, to experience or to explore? Did I travel to meet my own needs or the needs of others? Come to find out, my travel offered an opportunity to "Experience" India, per the advice of Dr. Geetha and Tom Chitta. Experiencing India through serving the needy opened my eyes to the real India.
As a nursing student, I offered Dr. Geetha help with her medical mission trips in anyway I could. Prior to my travel, some people asked me, "Why are you going to India to help when there are people in the United States who need your help?" My response was "The people of India are grateful for the assistance they receive."
I assisted with medical care to members of the Govinda Reddy Nagar S.T. Colony, Kasthuriba girls' school and participated in a health education program for teenage girls attended by Datta Sai Junior College students at Porumamilla. In addition I learned some embroidery techniques demonstrated by students at the Embroidery and Tailoring school, distributed free dictionaries and practiced the English language with students at FCN School.
India was not always serious work and I found quite time in a classroom after some students at school chewed mint-flavored gum with their mouths closed and shared their surprised looks on their faces when they experienced the taste of Listerine breath strips. And another fun experience was teaching students that a thumb and fingers are on a hand and toes are on a foot.
Experiencing India also included attending a book fair in Hyderabad and finding Telugu language books allowing me an opportunity to make people laugh when trying to pronounce words in the Telugu language. Trying to learn Telugu through pictures and through written and spoken word created an environment to connect with residents at St. Xavier's Home for the Aged.
Last, but not least was an opportunity to visit Shanti Ashram Charitable Society an orphanage for children with human immunodeficiency virus (HIV) and get a chance to sit among the children and see the wonder in their eyes and hope for a future.
One final question I wanted to explore was, "How effective is my donation through Foundation for Children in Need?" Throughout my travels in India, I fully realized time and time again that "My donation and donations of others are put to wonderful and productive use!"
Keep up the great work Dr. Geetha and Tom Chitta, and to all of those individuals behind the scenes sincerely helping with the mission of Foundation for Children in Need.
If you are wondering, "Would Suzanne ever return to India to help again?" My answer is, "Yes!"
Susanne Billings
Pennsylvania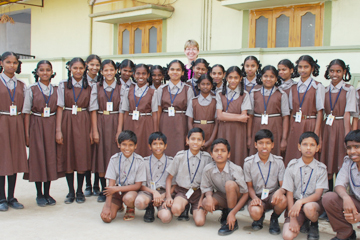 With Sponsored children at Hyderabad
Suzanne with FCN School Children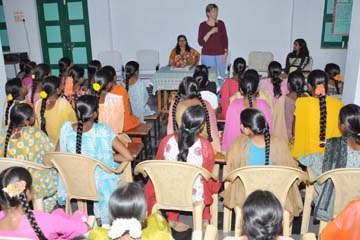 Health Education to teenage girls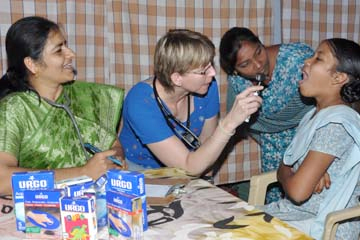 Medical examinations