Sponsors Visit to India
2016
Dear Friends,
January, 2016.
I had an amazing trip to India, someplace I never thought I'd travel too. The guidance and hospitality of Dr. Geetha and Tom made arranging this trip easy and a reality. I am very glad I accepted their invitation. What I found most beautiful about my experience was seeing the missions and meeting the children being served. They were all so joyful and grateful for the help given through the generosity of the sponsors. I came back feeling confident that my gift makes a difference and I was encouraged to want to invite others to support the work of FCN as well. It is one thing to write that check each year, another to experience what that support means to the children being served! I am also humbled by the work of Dr. Geetha and Tom. It was so clear to see how the Holy Spirit has been working through them. I am delighted to know and be a part of FCN.
Fr. Carl Morello,
Chicago
A trip to India was not exactly on my 'bucket list' nor was it anywhere even close to being on my radar. My experience in India and at the various FCN facilities proved to be one of the most humbling and memorable experiences of my life. Visiting the FCN facilities and being able to see and meet the children and people that FCN assists was only topped by my becoming a sponsor and being able to meet my child. The impression that the children made on me was effortless on their part. It was their genuine happiness, joy and gratefulness that ended up changing me. I came to admire the dedication and love demonstrated by the family members, employees, and all those involved with FCN because it was truly seeing the gospel being preached without words. That is the hard part to convey someone when I speak of my experience. The eyes and smiles of the children have not only been imprinted on my mind but even more so in my heart. I am proud to be a FCN sponsor.
Deacon Ron Pilarski,
Chicago
I have been home almost a month and I know my world looks different as a result of my time with FCN. I pray daily for all who make FCN the success it is. They provide a safe and happy place for so many children. I shall never forget the diligent attention in the school settings and the warm and engaged smiles on their faces. The memory of these children will remain in my prayers and in my heart forever, especially my own sweet girl, who I met. Thank FCN for listening to the gospel message.
Terry Coffey
It is important to show solidarity to our children, in our own country as well as abroad. Life is not always fancy but there is a lot of love too. Being a sponsor for many years to my dear child Bala was and is the least I can do to show my solidarity and love. With love comes hope and both make the world go round. FCN gave me the opportunity, thank you FCN. Meeting Bala and meeting the people who are taking care of him and of all those marvelous children was a life time experience to me. I am inviting every body to join us in supporting the needy. It is our duty as we got the means. I left India a better and a happier man. God bless FCN.
Michiel Decrop,
Belgium
After returning from India visiting FCN sites not only did I return with making some new friends but with new knowledge of the wonderful work Tom and Dr. Geetha do. I consider their work to be pure saintly.
I didn't become a sponsor until the week before we left Chicago for our journey. Being a little skeptical I was hesitant to become one until I checked it out with my own eyes. God sure showed me. From the first school we visited where we were all "Heartedly Welcomed" by students and staff alike I did see just that. What I spend on frivolous things back in the states can make a real difference in a child's life there. During our welcome celebration I was surprised that morning with meeting my sponsor child and was touched deeply knowing that a connection was born. We are thousands of miles away in physicality but a stone's throw in spiritual reality. I travel to see the world and it's many beauties. I wanted to see India. Each time in a distant land I am constantly reminded of how we are all intertwined. In our group we have talked about how we have been changed from this experience. I have been changed forever for good. Every school we visited we were welcomed by the children with smiles, songs and dance. We were shown many times over how two people with a vision of wanting to make life better for others in a few short years have made all the difference. Thank you Tom and Geetha for showing me your amazing country. Thank you for making me want to do and be better. Thank you for giving me the knowledge to want to be s sponsor and help continue the love and good works that Foundation for Children In Need performs every day.
Namaste,
Larry Wardzala,
Chicago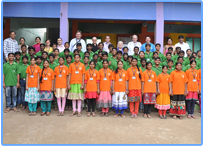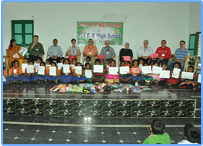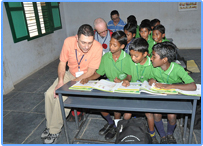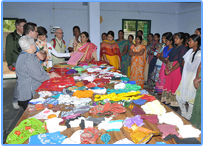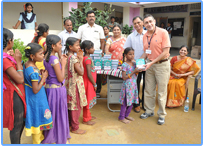 Jennifer Linder and Kevin Dougherty
November, 2016.
Our visit to India as travellers has blessed us greatly with a marvellous experience of knowing more deeply about FCN and its many service oriented activities. We never knew about the existence of this foundation until our friends directed us to visit this amazing organization while travelling around. Tom and Geetha, well known for their guidance, hospitality and graciousness welcomed our request of volunteering our service in the FCN School in a rural area.
It warmed our hearts to see how open, welcoming and loving the children studying here. The students frequently talked about their sponsors and asked us if we knew them personally. It was really touching to see how much love and appreciation they have for their sponsors, more than many sponsors probably realize. We could plainly see the enormous impact that this wonderful Foundation making in the lives of thousands of students. We also learned about the staggering number of projects that FCN undertakes, as well as the incredibly hard work needed to keep those projects running.
We are very much impressed by the 'never get tired of serving the poor and needy' attitude and dedication of Tom and Geetha in their God oriented mission. We cherish the wonderful moments we experienced with the well trained team of FCN as well as with the family of Tom and Geetha. We feel blessed to have met these zealous couple and are proud to now be part of the FCN family as sponsors.
Bob Santilli
November, 2016.
Hello Geetha & Tom! I very much enjoyed my trip Porumamilla in September! I was most impressed by the K-10 School, the FCN Compound, the attentive & hospitable FCN staff, and the School for the Deaf in Kadapa!! The gratefulness of the children and elderly women being helped by FCN was overwhelming!! And meeting my sponsored student, Krishnaveni Boreddy, was inspiring to say the least!! I appreciated the attentiveness by all the FCN staff throughout my stay and very much felt most welcome by all!! Thanks again to you both and FCN for taking the time from your busy schedules to arrange my itinerary in India!! Peace to all!
Bob Santilli, Denver, CO
Joe Hapak
November, 2016.
Dear Friends of FCN, From Kathmandu I flew to Hyderabad where Jayapal met me at the airport and took me to the Hyderabad headquarters of FCN. We visited an orphanage in the city before we took the night train to Kadapa. A driver met us there and took us to Porumamilla.
The next day I met Akshay Kumar and his family. We spent a couple hours getting acquainted. He is quiet boy who knows more English than his letters suggested. I am lucky to have him as sponsored child. He wants to be an engineer when he finishes secondary school two years from now.
This visit was a blessing to me. I now have a clearer idea to whom I am writing when I send him letters.